PANASAS AT SC2017 - FUTURE READY STARTS NOW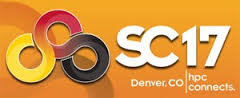 It's time for SC17, the premier international conference on high-performance computing, networking, storage and analysis. In keeping with SC's tradition of introducing the latest developments in large-scale technical computing and data-driven science, Panasas has chosen the event to launch its new, unconstrained storage system, capable of evolving with your changing networking infrastructure requirements.
Find out what it's like to have the freedom to build a storage system that matches your unique workflows, excels on performance, reliability, and manageability, and delivers on TCO.
Join us in booth #671 for your personal introduction to the next-generation of storage.
See you in Denver!
SC2017

November 12-17, 2017
Denver Convention Center - Denver, CO
Exhibits: November 13-16, 2017
Panasas Booth#671

About SC17
SC17, sponsored by the ACM (Association for Computing Machinery) and the IEEE Computer Society, offers a complete technical education program and exhibition to showcase the many ways high performance computing, networking, storage and analysis lead to advances in scientific discovery, research, education and commerce. This premier international conference includes a globally attended technical program, workshops, tutorials, a world class exhibit area, demonstrations and opportunities for hands-on learning. For more info visit http://sc17.supercomputing.org/