PANASAS AT SC2017 - HPC STORAGE WITH ENTERPRISE AGILITY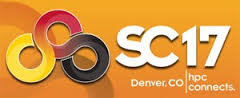 If you are looking for HPC storage that accelerates discovery and drives innovation you've come to the right place. Parallel data flow, scalability, reliability, ease of management and exceptional performance – Panasas ActiveStor® storage has it all.
Join us in Denver for SC17, the International Conference on High Performance Computing, and let our team of HPC technical experts show you how ActiveStor seamlessly scales to immediately contribute more storage capacity and processing power to any number of computing clients across the entire system. All without increasing administrative load or system fragility, allowing you to focus on the science or the engineering rather than the tools.
ActiveStor:
Is a fully integrated clustered NAS appliance solution

Incorporates hybrid storage nodes containing a range of both flash and SATA HDDs

Combines parallel data flow and direct data access technology to boost performance, increase data availability, and eliminate hotspots

Has erasure-code based reliability that increases with scale, with automatic self-healing recovery from failures

Offers a single namespace with a single easy to use management GUI and CLI

HPC Storage with Enterprise Agility – that's Panasas.

Looking forward to seeing you in Denver!
Panasas Booth# 671
SC2017
Colorado Convention Center – November 13-16, 2017
About SC17
SC17, sponsored by the ACM (Association for Computing Machinery) and the IEEE Computer Society, offers a complete technical education program and exhibition to showcase the many ways high performance computing, networking, storage and analysis lead to advances in scientific discovery, research, education and commerce. This premier international conference includes a globally attended technical program, workshops, tutorials, a world class exhibit area, demonstrations and opportunities for hands-on learning. For more info visit http://sc17.supercomputing.org/