PANASAS ACTIVESTOR PERFORMANCE SCALE-OUT NAS ARCHITECTURAL OVERVIEW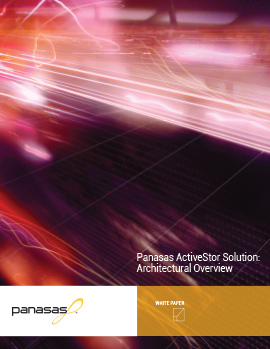 Industry analysts point out that the growth in unstructured data now significantly exceeds that of structured data. Panasas® ActiveStor® performance scale-out network-attached storage (NAS) is an advanced technology solution designed to overcome this challenge without the performance limitations of other NAS architectures.
The need to process, store, and analyze ever-larger amounts of information has intensified the pressure on IT departments to build compute and storage environments that meet these demands. NAS is the ideal choice for unstructured data—ranging in size from small text files to multiterabyte image and video files—because it is designed for application-based data sharing, ease of management, and support for multiple file access protocols.
This paper explains the Panasas solution's key architectural concepts:
Scale-out NAS
Direct access to data
Parallel data flow
Hybrid-storage with intelligent tiering
Erasure-code-based per-file data protection
Download the white paper to learn how Panasas ActiveStor architecture supports today's massive growth in data.